Miss Thora Nang / New York City / December 26th & 27th
MISS THORA NANG
Professional Dominatrix Miss Thora Nang of Philadelphia, PA returns to New York City December 26th and December 27th. The Philadelphia Dominatrixes Fetish Model will be accepting sessions throughout the two day period. So step away from the blues, the fatigue and the holiday stress and submit this captivating Asian Goddess! To do so, it is best to contact her directly at
ThoraNang@gmail.com
for an appointment.
About Miss Thora Nang:
MISS THORA NANG
From sensual, strict, sadistic and Evil Domination sessions to creative cbt, rolepay scenarios and ballbusting, Miss Thora Nang is a woman who believes in wielding her vast collection of implements for her personal joy and satisfaction. In fact, She says "You will be begging Me to push you further into the world of submission...Soon you will kneel before me, worshiping my beautifully pedicure size 6 feet and wondering what will happen to you next." Of course, your entire world melts away as "My sensually kinky Dominant nature will not only command your respect but will take you to new heights."
MISS THORA NANG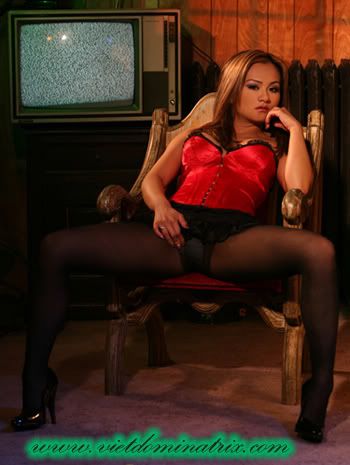 Miss Thora's favorite activities include:
*Domination/ownership (sensual to bratty to strict, sadistic, or just plain EVIL)
*Extensive intense bondage (rope, leather, plastic, mummification)
*Corporal (canes, singletail, paddles, whips, OTK spanking)
*Creative role play (mild to bizarre wild) * Foot Worship - (barefoot, pantyhose, nylon stockings)
*Animal Training (puppy/pony/pig)
*Nanny/Babysitting Services
*Toilet Training
*Humiliation Light: Amusing to degrading.
*Humiliation Extensive and Prolonged: Private, personal or public degradation. English and Vietnamese spoken.
*Interrogation (including Vietnamese interrogation).
*Objectification/Human Furniture
*Dehumanizing, Reprogramming, Behavior Modification
*Electrical (tens, PES, violet wand)
*Extreme Captivity/Relentless Interrogation
*Cuckold Fantasies
*Strap-on Training
*Medical Fantasies
*Extended/Overnight Play
*Ball busting /Creative CBT
*Chastity/Key holding
*Latex/Leather Fetish
*Cross dressing (wardrobe available)
Ask if you do not see your fetish!
Please contact Miss Thora Nang directly at
ThoraNang@gmail.com
.
For more information:
Miss Thora Nang
http://www.ThoraNang.com
Thora Nang's contact application
http://www.thoranang.com/contact.html
Philadelphia Dominatrixes
http://groups.yahoo.com/group/PhiladelphiaDominatrixes
DC Dominatrixes
http://groups.yahoo.com/group/dcdominatrixes
DC Dominatrixes on Twitter
http://www.Twitter.com/DCDominatrixes
LA Dominatrixes
http://groups.yahoo.com/group/ladominatrixes
NYC Dominatrixes
http://groups.yahoo.com/group/nycdominatrixes
Regards,
Mark
List Owner
DC Dominatrixes
LA Dominatrixes
NYC Dominatrixes
PHIL Dominatrixes